How to Know How Fast Your Students Should Be Typing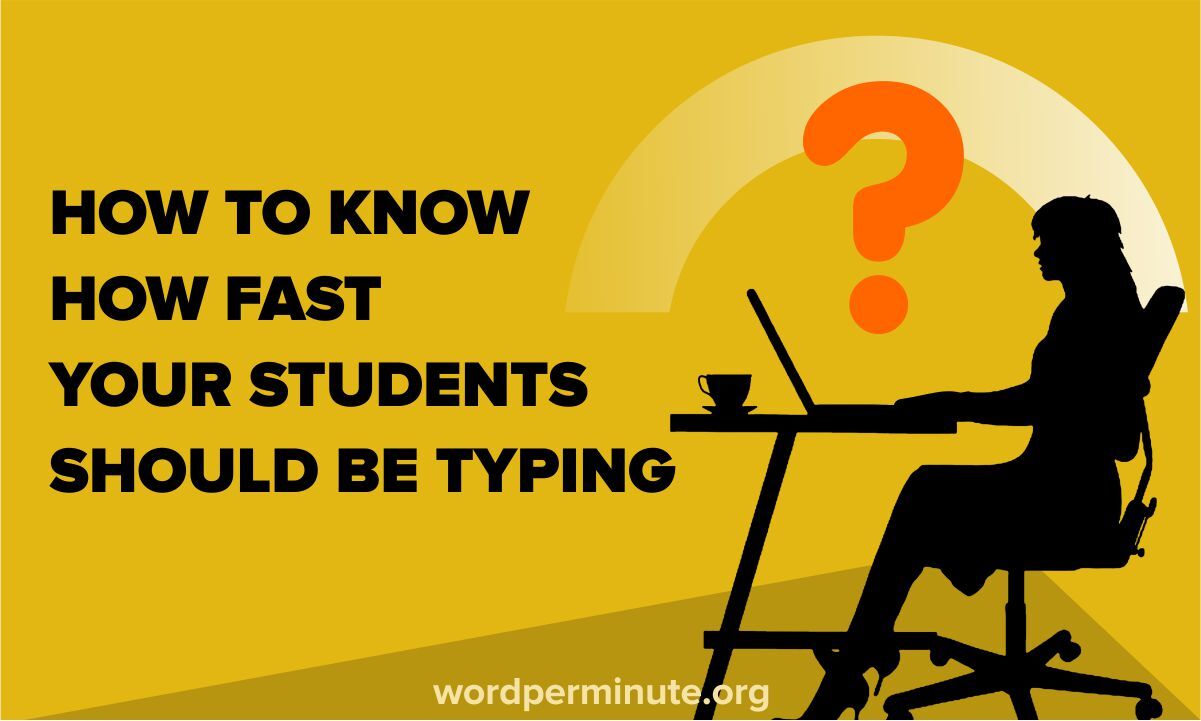 Typing is one of the basic skills needed in the technical world for numerous purposes, just name it and you can type it. But even in this era of science and technology, students consider typing as more complicated and challenging than writing which isss due to the lack of guidance and awareness of the needs of typing.
Typing came into existence with the nearly-ancient typewriter and has evolved into keyboards, mobile typing, and virtual keyboard typing. As for the need for typing, it is required in nearly all technical fields and notable non-technical fields as none of the data are handwritten nor could be handwritten.
Typing is more of a skill than talent and can be excelled easily through proper practice. Also, a good typing speed should be maintained for work to be done faster and more efficiently, which could only be achieved through practice, and more practicing.
Apart from careers that require typing skills and typing speed, it is also necessary for a variety of self-help activities like creating PowerPoint presentations or school projects which contain copied text 80% of the time because students did not want to type them as it would swallow most of their time.
Comparatively, a kid who has a good typing speed would create an original presentation or project and is likely to be brighter than his classmates and be appreciated more. It would light up confidence in the kid and would lead to academic and co-curricular excellence
Typing is included in digital literacy, which is equally important as general literacy. Digital literacy means possessing the skills necessary to live and thrive in the digital world- like understanding search engines, web browsers, emails, evaluation of online resources for learning and commerce, and so forth. The world has become more of a digital place in the past decade, with the digitization of currency to meetings and sales, everything has been moved from reality to virtual realit
Looking back to a couple of years, tests are being conducted online and typing speed has become more of a determining factor in scoring good results just similar to writing speed in written exams. In this scenario, a kid with less or no knowledge of keys on the keyboard, the keyboard shortcuts, the symbols, and less accuracy is likely to score less than those who have higher knowledge and efficiency in typing.
Apart from the school tests, many other exams of high importance are also conducted online, so typing speed is not only a determining factor in the early years of life but also the youth.
Practically, a kid who has learned something in his childhood would be more efficient in doing it in his teens as compared to someone who has learned it later in his teens. That is due to practice and being accustomed to the keyboard. So you already know who will win the battle
What is a Good Typing Speed?
Typing speed is measured in wpm, that is, words-per-minute. A good typing speed depends on numerous factors like the type of your keyboard, body posture, typing technique (like touch Typing, Hybrid, Buffering, Hunt & Peck, Thumbing, etc.), and the number of fingers used for typing.
On average, this speed is said to be good if it ranges from 35-40 words per minute with at least 80% accuracy. Typing speed does not include only typing. Rather, it includes the ability to type without looking into the keyboard the whole time, typing precision, and the number of fingers used
Typing speed of a person can also vary according to the technique he is using. For example, if you use a certain technique, say x, your typing speed may be 40 wpm, but if you use a different technique, say y, under similar circumstances, your typing speed may drop to 30 wpm or less or more.
Which Target Speed Should You set?
While there are no universal standards set for speed, a guideline could be set for typing differentiated based on age groups. These guidelines or goals are to be set in wpm (words-per-minute) or cpm (characters-per-minute). Typically, kids in the age group 6 to 11 years could type 15 wpm on the beginner level and 35 wpm on the expert level, for 12 to 16-year-olds, it ranges from 30-50 wpm while for 17 years and above, it may range from 45-65 wpm
While setting the guidelines, it is necessary to set the starting goal to the beginner's level and then move on to a higher level, skipping a step is never helpful in learning something
Typing Tests for Kids
Typing tests are time-limited wpm tests. They contain different difficulty levels and are available in different languages. These wpm tests provide a complete analysis of the candidate's progress in typing.
Typing tests are often thought to be boring but the wpmtest.org are made interesting with factors that attract kids, like their favorite songs, dialogues from movies and shows, and poems. These typing tests also provide you with the number of typing errors made while improving their typing speed and accuracy. Different types of typing can be practiced. The test results help set future typing goals and identify which typing aspects to improve further.
Tests on wpmtest.org can be quite beneficial for those who wish to increase their wpm. Candidates can take 1,3 or 5-minute tests in 3 typing complexities- easy, medium, and hard, depending upon which level they are on- beginner, intermediate or advanced, respectively. The typing tests can be customized according to wish and save or share the results
Proficient typers are those who possess qualities such as typing without looking at the keyboard, using all fingers while typing, and having a high typing accuracy too. The best thing is that learning has no age bar, no matter how old you are or what profession you belong to, you can always learn typing.
Typing Games
Kids are mostly associated with fun and games and can be best stimulated with the very same things. No one has ever seen a kid who has been interested in a non-fun activity. Games too are a way of learning, while being keenly interested in it. Games teach us to own up to our mistakes and learn from them, which is a crucial step in learning something. They are engaging and informative while helping in developing necessary skills and mindfulness
This process of using games to enhance learning is called gamification and is often used in preschoolers or elementary schools. Gamification makes children want to participate in learning and compete for more in comparison to the primitive ways of learning. Some games increase keyboard familiarity and typing speed. Such games and activities are suggested to the students trying to learn typing. They can keep you engaged for several hours and students are unveiled to new concepts and challenges. Typing games with animated characters are available for pre-teens who are hard to convince to learn, making the job of teaching easier for parents or teachers
It has been noticed that gamers handle the keyboard better than normal people which concludes that gaming can familiarise you with the keys and hence, a higher typing speed. This is because they have to focus on the screen while using the keyboard. And this activity increases hand-eye coordination. Thus, gaming can help you overcome a lot of typing inabilities
Typing Skills for Kids
Typing may not seem a very important skill for kids at the very beginning because no one imagines kids sitting with a screen trying to type with concentration. But the absence of this skill may put them in difficult positions later on in life. The presence of this skill will improve their language skills, aid in their future career path, and provide an upper hand in learning. Students should be guided on typing, its speed, and accuracy so they have a chance to develop it on their own accord
Just like students are taught painting on computers in school, if they are taught to type in the same manner while schooling, with the right guidance, they will be skillful typers in a flash. In many cases, children who suffer from disorders like dyslexia, dysgraphia, ADHD often have difficulty in writing with their hands, learning typing may help them learn better and walk shoulder-to-shoulder with bright students. Learning typing will make day-to-day activities easier for kids- excelling in online examinations, getting creative in projects, creating presentations, increasing productivity, thriving in the technical world, and so on